Learning how to code can seem like an intimidating process – it's easy to feel lost and confused when you're first getting started. It's especially easy to get lost if you're working on your own, without access to any friends or a knowledgeable person who can help you out along the way.
If you want to learn how to code, though, one of the best ways to do it is through YouTube channels – not only are they free, but they also allow you to learn at your own pace and without feeling pressured by other students in a class setting.
There's no need to attend university to learn how to code! In fact, there are some really great YouTube channels that teach programming and other tech skills that you can watch at your own pace and for free. But with so many different channels out there, where should you start? Here's our list of the top YouTube channels that every aspiring programmer should check out!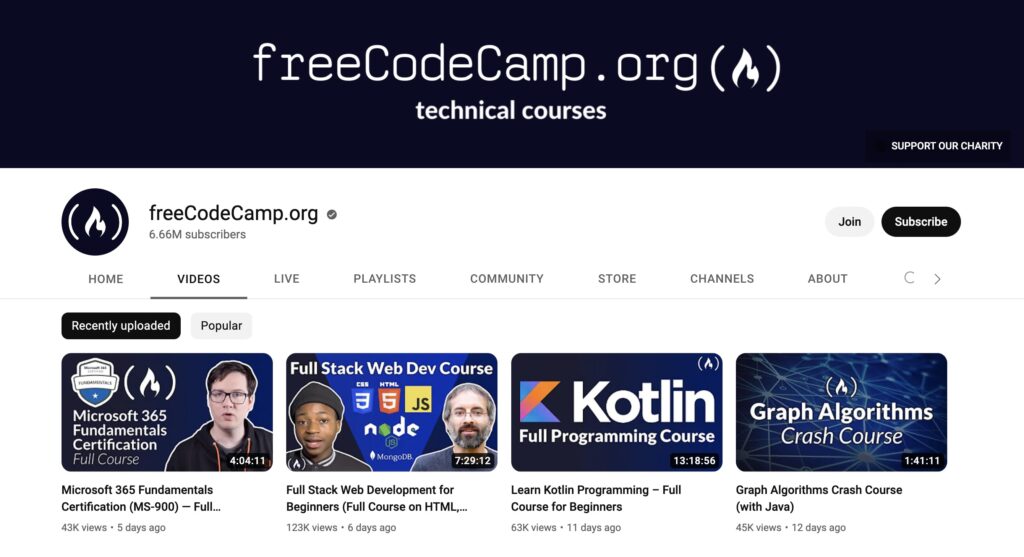 FreeCodeCamp is a non-profit organization that offers free resources to learn how to code. The curriculum starts with basic HTML and CSS, before moving on to more complex JavaScript and Python. There are many lessons available on topics such as data visualization, web development, and digital marketing. After completing the course, students can then take the Front End Development Certification exam which costs $25.
Their videos are in-depth and long-form content about different programming languages that include playlists for beginners and professionals. The videos will range from 3 hours to some minutes that cover modern and traditional technologies like JavaScript, HTML, CSS, PHP, data science, ML, and Python. This YouTube channel is quite popular with more than 5 million students and many playlists.
No. of Subscribers: 6.6M
Total Videos: 1300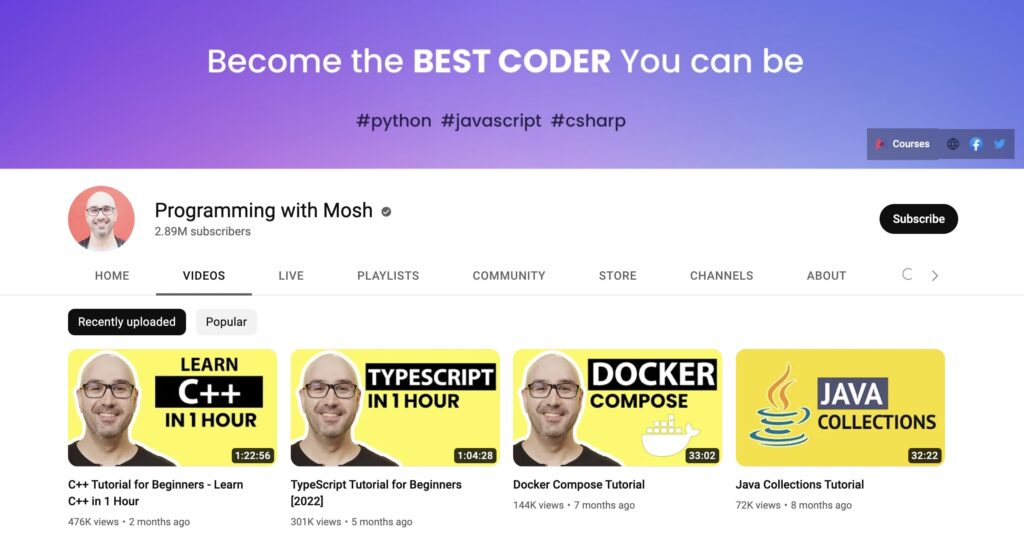 Programming with Mosh provides you with plenty of tutorials about not just trending programming languages but new and emerging web technologies, which are gaining their ground quickly in this developing world. This channel offers long videos (up to hours) discussing every thread and various topics of these languages in complete detail.
The channel has some introductory courses on React, Python, Typescript, Node, frontend and backend development, and many more. In addition, Mosh trains individuals in some cracking interview questions & talks about the current market, trending languages, developer's wages, etc., on this channel and blog. Suppose you're interested to learn about JavaScript, ensure you watch the JavaScript tutorial and learn JavaScript within an hour.
No. of Subscribers: 2.9M
Total Videos: 171
Traversy Media is an amazing source of new web tutorials on various programming languages. With the subscribers touching at 725K mark, this channel offers complete learning tutorials on some major development & scripting languages such as Node, Angular, Ruby, React.js, Python, and more.
Besides, the channel has close to over 2 million subscribers and many playlists covering various topics. The channel has got everything that you want for programming basics and advanced levels. It has an amazing variety of tutorials. The channel has also influenced other new YouTubers where they can start the channels.
The quality of its content is impeccable. Undoubtedly, it will help you to widen your programming skills and knowledge and improve your programming know-how.
No. of Subscribers: 1.9M
Total Videos: 940
Also Read: 8 Best Youtube Channels to Learn Java for Beginners
ProgrammingKnowledge provides plenty of videos on the top frontend and backend programming languages that includes Swift, Python, Ruby, PHP, and others. It's the best channel on YouTube to learn various web development tools since it has got videos on the framework and has plenty of visitors.
The huge number of videos is geared towards beginners which makes this the first channel anybody who wishes to get into coding must bookmark. You're bound to find out everything that you need.
No. of Subscribers: 1.6M
Total Videos: 3200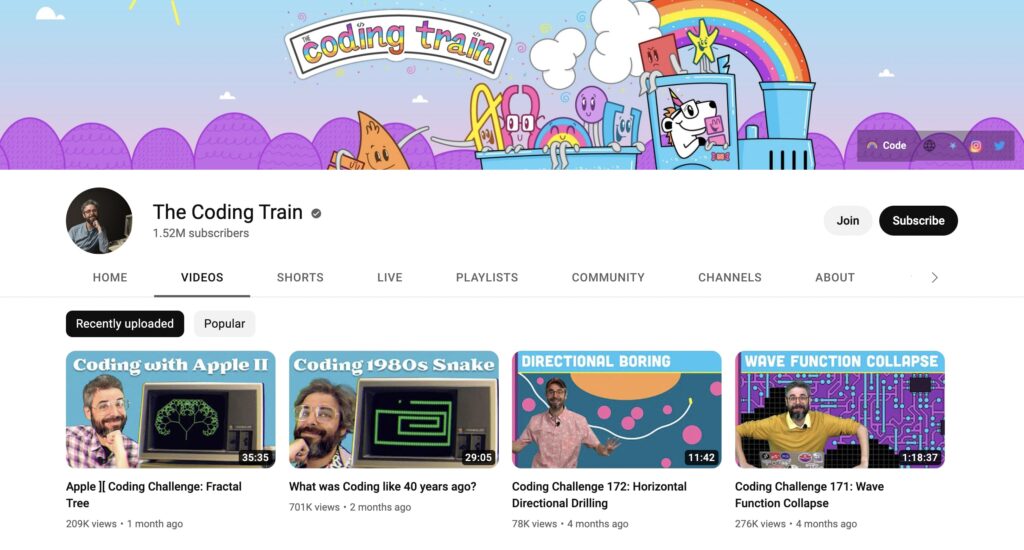 Another amazing YouTube channel is The Coding Train, it is an interactive and fun channel, run by Daniel Shiffman. This channel has got 'creative' coding tutorials for building games, using machine learning, JavaScript, simulation, frameworks, and more.
With a degree in Mathematics & Philosophy master, Daniel's intersectional learning is seen in all his tutorials of algorithmic art, making Discord Bot, generative poetry, and coding in Cabana. His YouTube videos link to his Coding Train's website which has more challenges that students will pursue after learning his YouTube basics.
No. of Subscribers: 1.5M
Total Videos: 1,160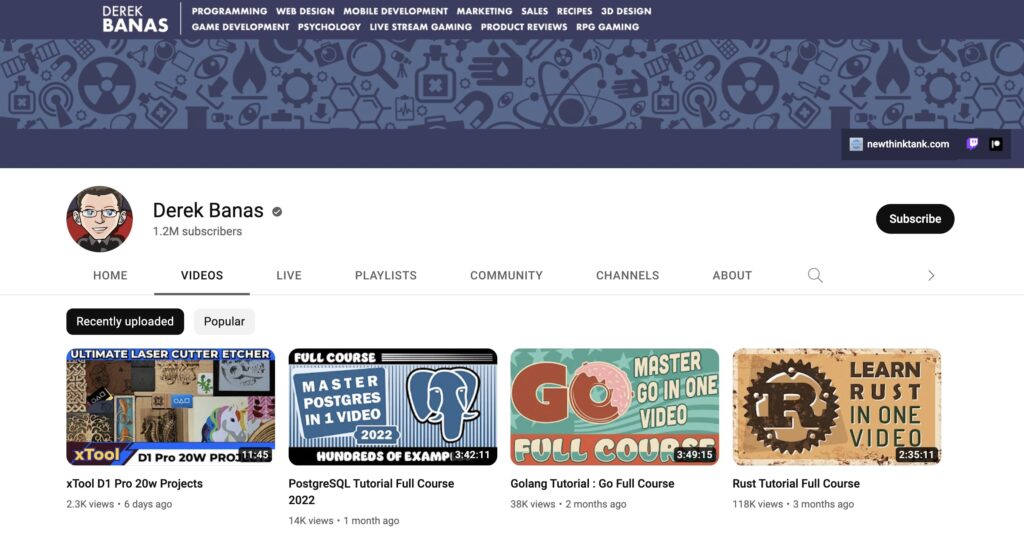 Derek Banas is a programmer who teaches other programmers how to program. He does this through his youtube channel, where he provides tutorials on many different programming languages. One of these languages is Swift – an easy language to learn and the one Apple uses in their products.
Derek has uploaded many videos that teach how to use Swift – from installation to just getting started with the basics. His videos are perfect for programmers new to the platform, or those who want a refresher on what they already know.
His videos have detailed lessons for simple learning of various programming topics such as Java, PHP, and MySQL. He's most popular for his channel Learn JavaScript within 30 Minutes playlist & practical resources like developing various software for Android and investing in technical analysis, data science, and more.
No. of Subscribers: 1.2M
Total Videos: 1203
The Net Ninja is a popular YouTube channel where you can learn about web development and other computer programming courses. The channel was established by Shaun Pelling 2015, a University of Manchester master's graduate and has more than 50,000 live students on Udemy.
Shaun has more than 1000 computer programming tutorials on Node.js, Modern JavaScript, Vue.js, React, MongoDB, Firebase, HTML and CSS, PHP and MySQL, React Native, Laravel, and Flutter; which will range in various expertise. Every topic taught in the series includes short videos that will range from introductory concepts to advanced topics. In addition, practical examples and projects make these lessons simple to understand.
Unlike other channels, Shaun focuses on teaching various skills without uploading any videos on the tech industry, personal life, live streaming, or collaborations. For people who may prefer straight-to-point videos that generally stay in 15 min, you find them at The Net Ninja.
No. of Subscribers: 1.02M
Total Videos: 1984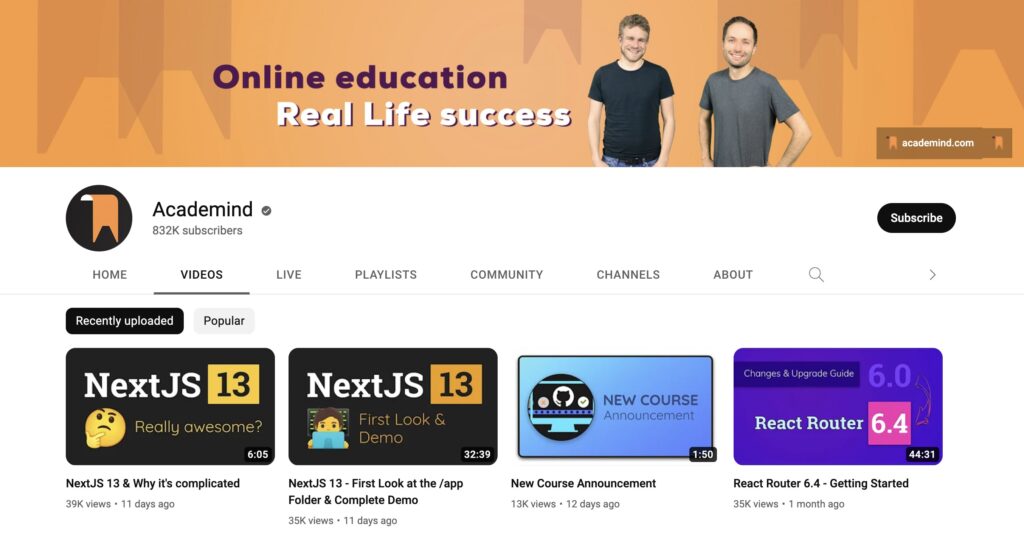 Academind offers the most detailed video tutorials on frontend languages that include Vue, Angular, React.js, and more. Right from the basic to advanced level, the frontend development YouTube channel offers all types of video guides, which help beginners to start with some favourite languages fast.
The videos cover various programming languages, NodeJS, ReactJS, JavaScript frameworks, VueJS, Angular, and more. Their video explanations are detailed with long hours of crash courses for beginners.
No matter when you begin learning your coding— when you are a kid or full-grown adult or professional. Learning coding will broaden your various career opportunities as well as keep your brain active and sharp. An amazing thing is you can do this without taking any expensive course, due to the educational YouTube channels.
No. of Subscribers: 832K
Total Videos: 641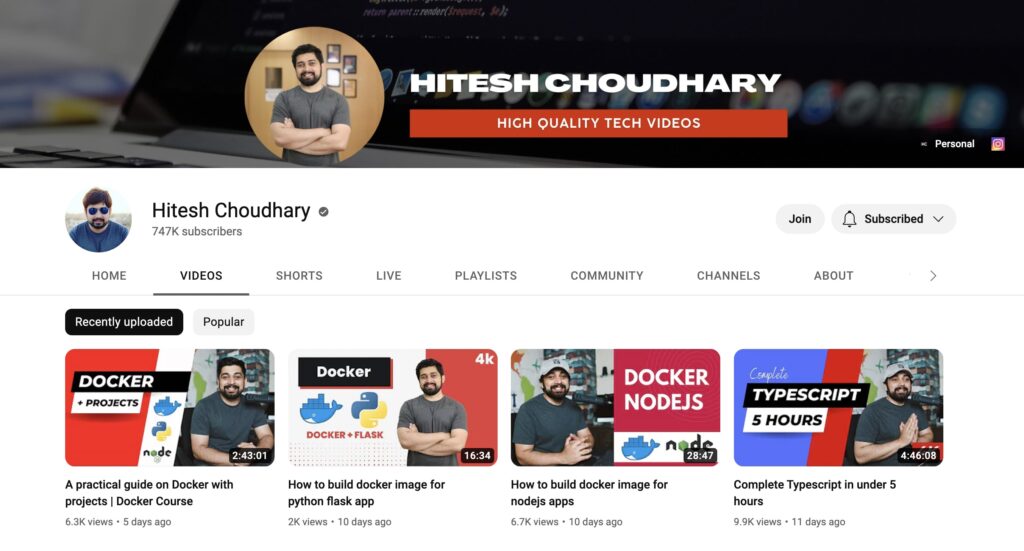 Having a knack for exploring various programming languages, Hitesh brings some regular content on different programming languages, mainly the backend coding. Besides uploading quality tech videos, he uploads various Vlogs on this channel too, hence discussing the latest market, as well as Youtube.
No. of Subscribers: 747K
Total Videos: 1200
FAQs
How can I learn programming languages online for free?
Yes, you can take the help of these top-listed YouTube channels to learn the programming language that you are interested in, you can fast learn coding in any language without even investing any of your money.
Can I learn Python language by watching YouTube videos?
Yes, learning Python language on YouTube has become the most viable choice. We are enthused about what the new medium may achieve for programming education. There're many great Python YouTube channels that you can look for, you only have to find out one that is suitable for your needs.
Do YouTube programs prepare you for work-related skills?
The programming channels are actually led by professional programmers, software engineers, and web developers. These mentors will guide you to secure the job and perform effectually at the top IT companies.
Is YouTube channel reliable for programming learning?
YouTube is the most reliable and trustworthy platform to learn anything, which includes programming. You will find the top experts and meteors of all fields here, contributing valuable experiences to other students for growth.
Wrapping up
Here is the complete list of the top YouTube Channels that are best for learning various programming languages for beginners. They come packed with various step-by-step complete video tutorials that you may use for learning web development & coding in your free time.
No matter when you learn to code — when you are still a child or a full-grown adult or professional. Learning to code will widen your career opportunities & keep your brain active.