Looking to self-learn java through blogs, online tutorials, and courses that create a vast demand for Java programmers and developers? Then it is the versatility of the Java programming language; it will easily serve any purpose. Great Java developers will make lots of money and they will admit that they gained their knowledge and skills through online resources, particularly blogs.
To handle new challenges and stay relevant, developers and programmers have to look after several things. Besides having strong programming knowledge and firm knowledge of the related technologies, developers have to stay updated with the new conventions and trends about their programming languages.
List of Best Java Blogs for Beginners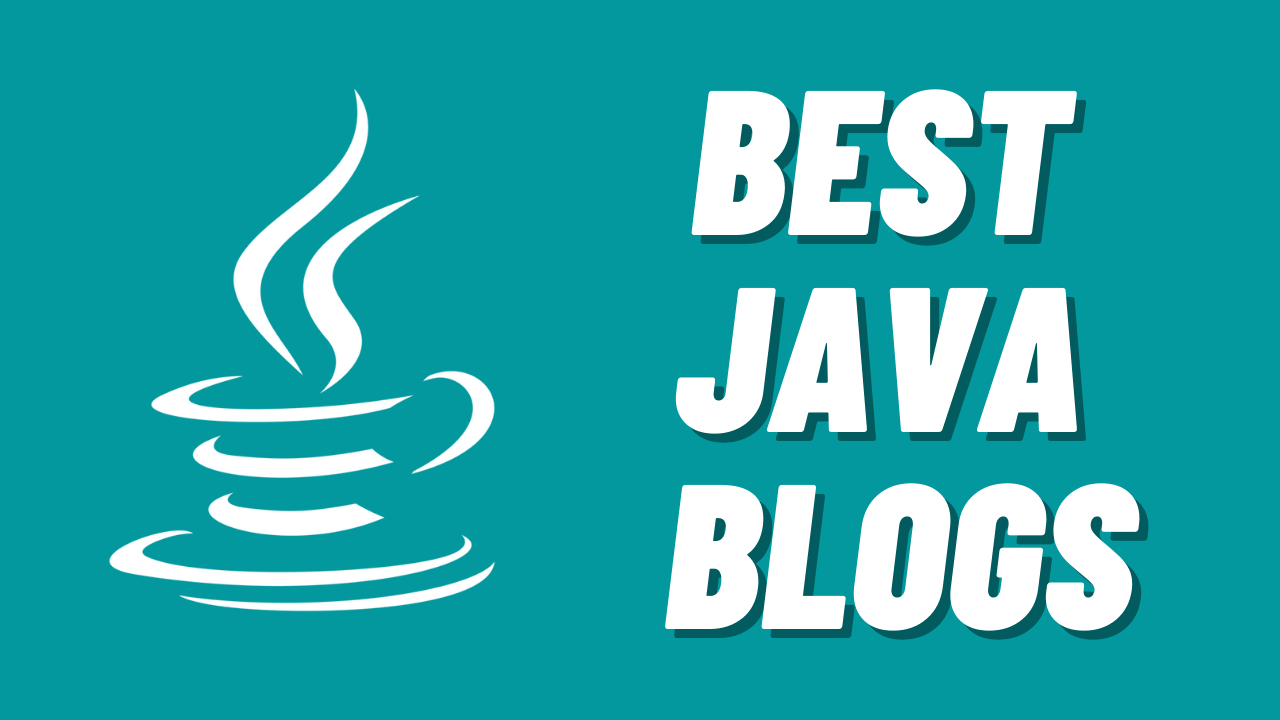 It is quite sure you will not find it tough to find the best Java resources. However, how you will ensure you get the right Java study materials according to your expertise and experience?
Suppose you encounter any such questions, not to worry. We will recommend the most cost-effective and convenient solution for you. And it is the best Java blog where you may bookmark suitable ones. Let us check out the list of top java blogs.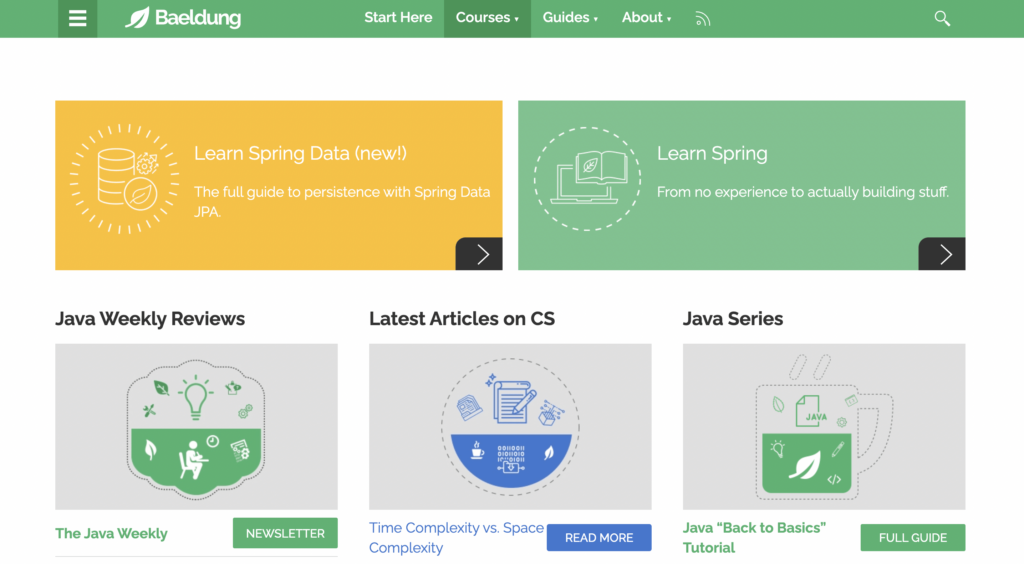 Baeldung is a popular java blog especially for programmers of diverse experience levels, the blog is made by Eugen – he is an engineer who has an amazing passion for web apps & tutoring. This dedicated Java site is the best choice for anybody looking to get the latest Java news, professional advice, and updates. Besides offering Java-focused blogs and articles from a diverse range of Java experts and professionals, Baeldung offers some useful learning programs and courses too.
Baeldung focuses on HTTPClient information, Java, Jackson, REST APIs, and Persistence. Generally, several quality articles are regularly added to this website every day. Besides guides and tutorials for Java, there're many in-depth tutorials of Spring Framework.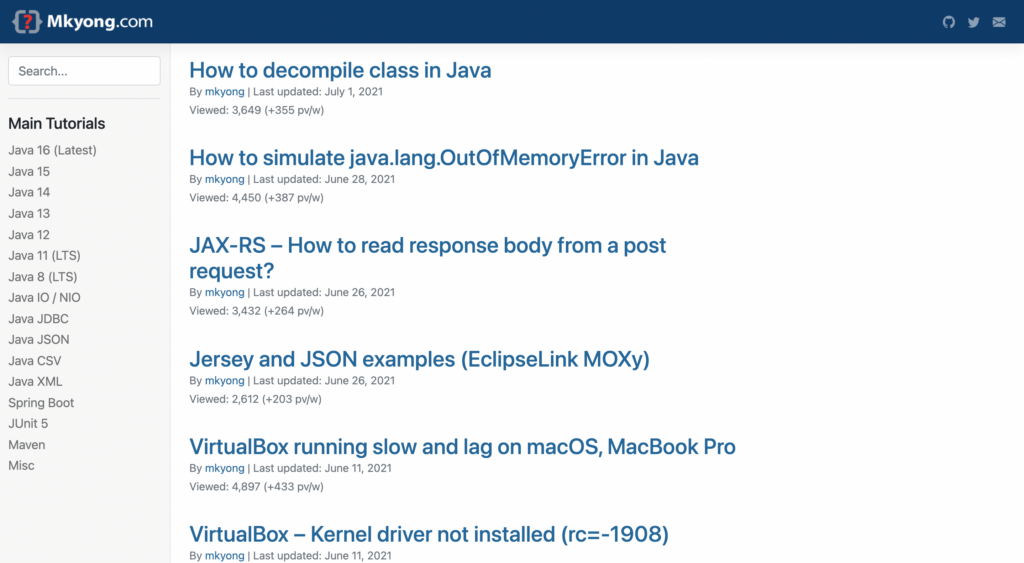 Next comes Mkyong.com, and this website has been offering Java, Spring tutorials, and even code snippets for a long time. All their published articles and blogs are easy and simple to understand and are well tested in the development environment. This website is for Java & J2EE developers who are looking to improve their knowledge and skills.
Mkyong.com is made and maintained by Mkyong or Yong Mook Kim. Though made on WordPress, it is hosted by the Liquid Web, and caches by Cloudflare CDN.
Formed by the professional Java Code Geeks, the weekly newsletter covers the latest happenings and news in the Java world. Furthermore, this newsletter provides comprehensive articles and blogs on various Java tools.
Java Code Geeks is focused on creating Java resources for the programmers; and the website is targeted mainly at technical geeks, senior developers, project managers as well as junior developers. Java Code Geeks serve the Scala, Java, SOA, Android, Telecom, and Agile communities with news written daily by the domain experts, tutorials, articles, announcements, reviews, open-source projects, and code snippets.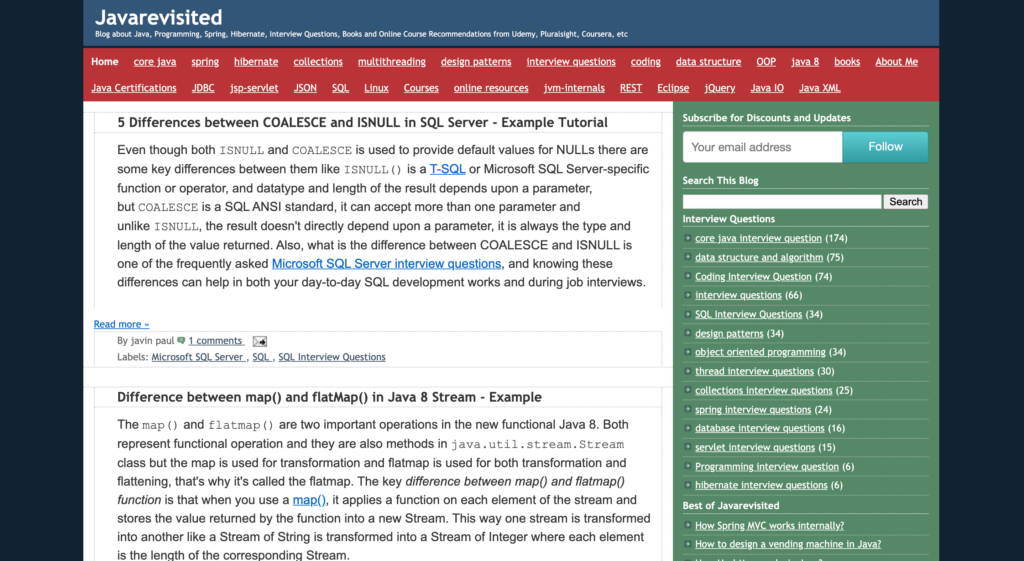 Javin Paul created this website, he is a Java expert with many years of industry experience, it is one amazing blog that every java developer must follow. It provides many different how-to & step-by-step guides on Java. Thus, it is a convenient learning choice for both seasoned and beginners Java programmers. Besides Java, this blog focuses on the FIX protocol & Tibco RV.
Another major highlight of this Java resource is its reader encouragement when it comes to conducting various interviews with the creator. Among several queries asked, Paul collects the most appropriate and relevant ones and tries to convert them into detailed blog posts.
How to Do In Java is a small blog compared to others mentioned above, but I do refer when in any doubt. It is better to refresh our old memory than read the new opinion. On this website, you will find more java tutorials than the traditional blog, still, it is quite useful. It is a vocation blog that has very specific and crisp and clear content that is easy to understand.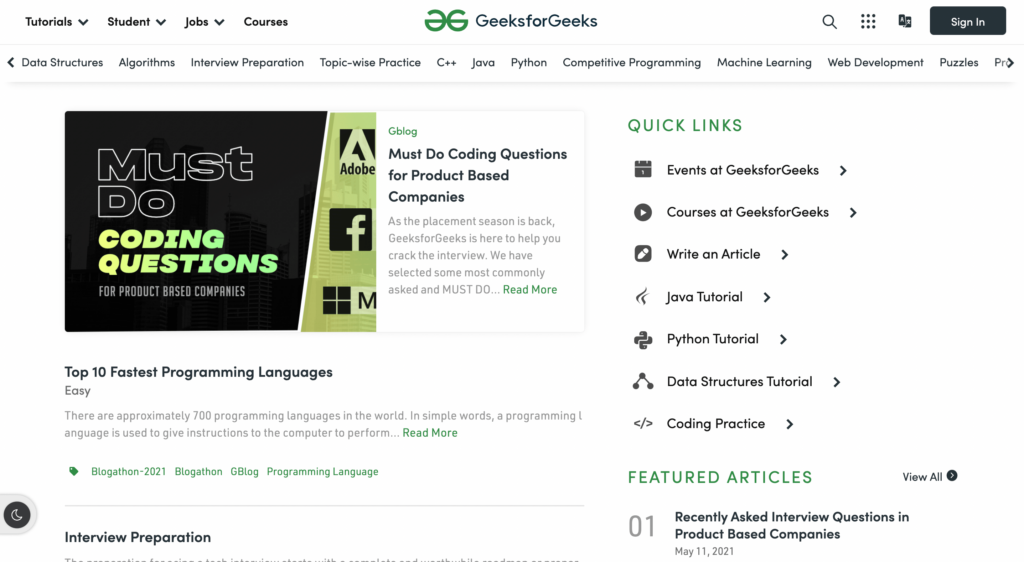 Geeks for Geeks is an amazing platform for java people who want useful blogs and articles and are highly dedicated to learning programming languages. The website includes well-thought-out, explained, and written programming and computer science articles. The platform has helped several people to have a better understanding of different programming languages, algorithms, and data structures.
This is an amazing platform that gives access to various types of java training materials, whether it is getting programming solutions or practice for your entrance exams, basic and premium courses, and more. Geeks for Geeks gives an inclusive approach for various technical concepts and ways to resolve programming problems, which allow you to select the right solution.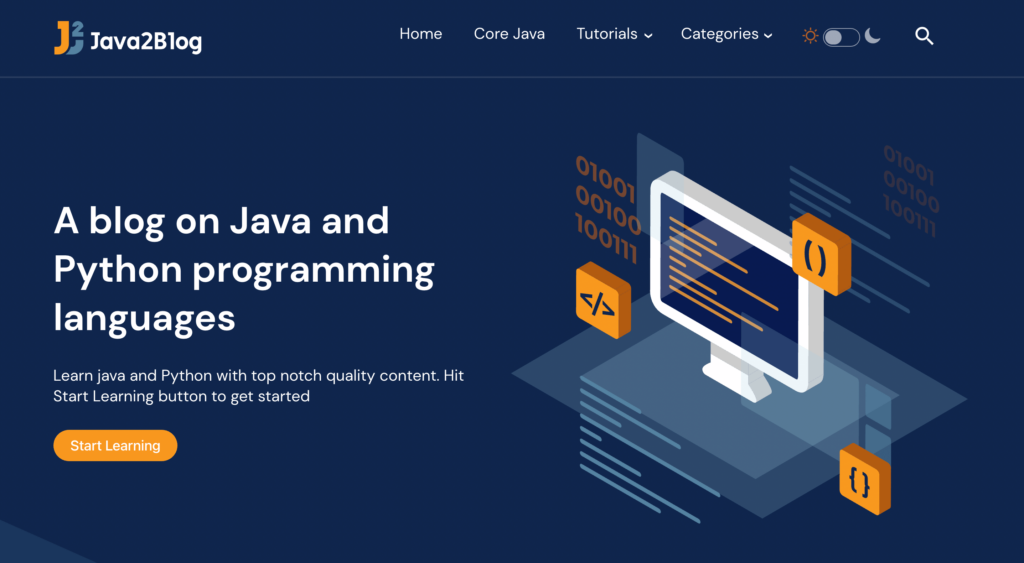 This is one amazing website for Java developers, programmers, architects, and lead managers, they find this website very useful since it is one informative website where you will find everything related to Java. Besides you come across several tips that are right from the professional Java programmers on many blogs hosted on this page all along with some useful tutorials & white papers. This is a blog about everything related to Java for beginners and experienced folks.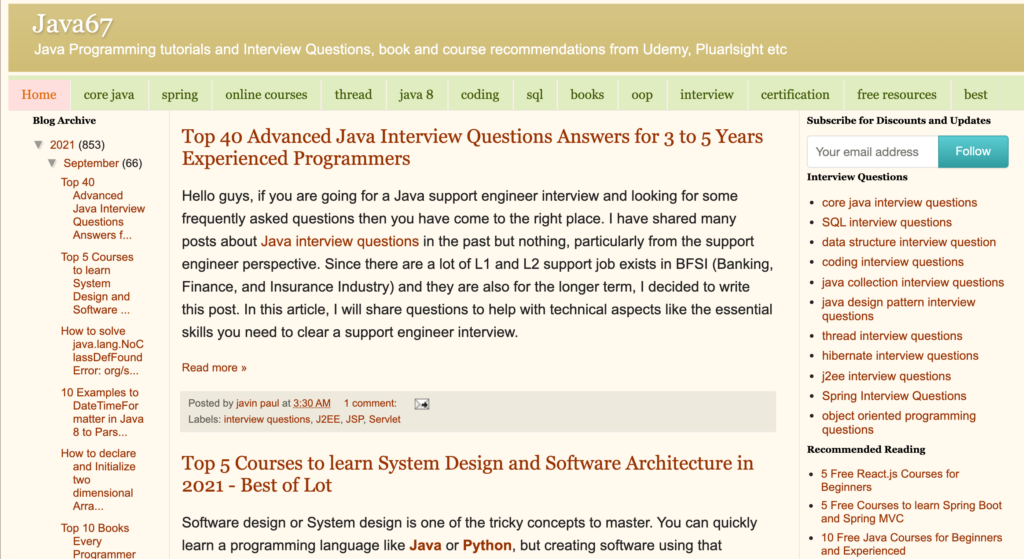 Java67 provide homework assignment, answers to an interview question, debugging Unix, Linux SQL XML, and various other blogs. This is one best website if you are looking for detailed java programming tutorials & interview questions, and course recommendations, and more.
This is a perfect website for Java developers and programmers who are looking to brush up on their java skills and get new updates.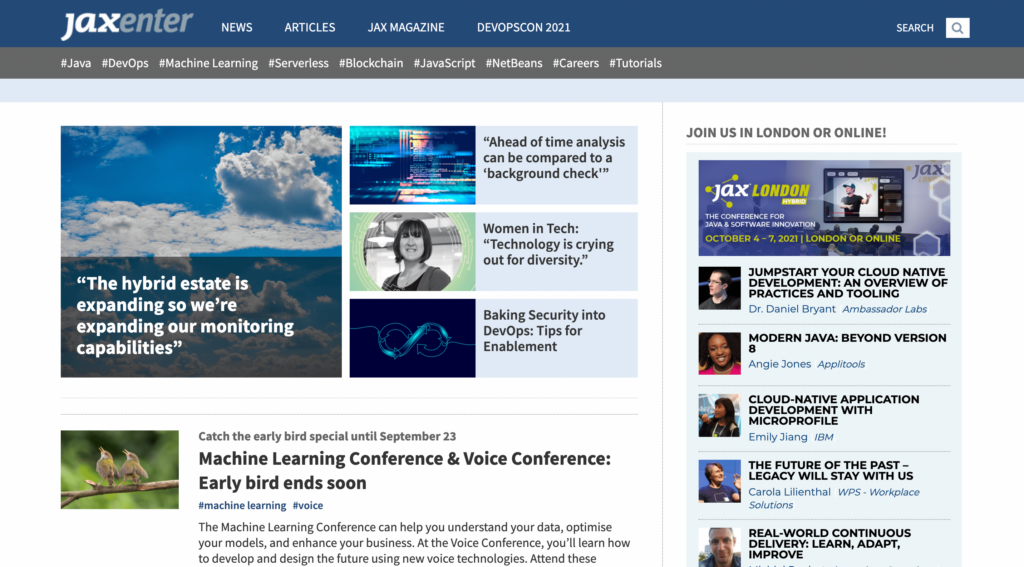 Jaxenter provides news, tutorials, and views on various things related to Java, and other related goodness. It is complete to blow up your minds with advanced programming knowledge – and bringing you the modern technology news, development tools, career tips, coding tutorials, videos from the JAX conferences, and the occasional rant on a developer life.
You can also check out the stories, commentaries, and articles on open-source, Java, JavaScript & various other programming topics in one place.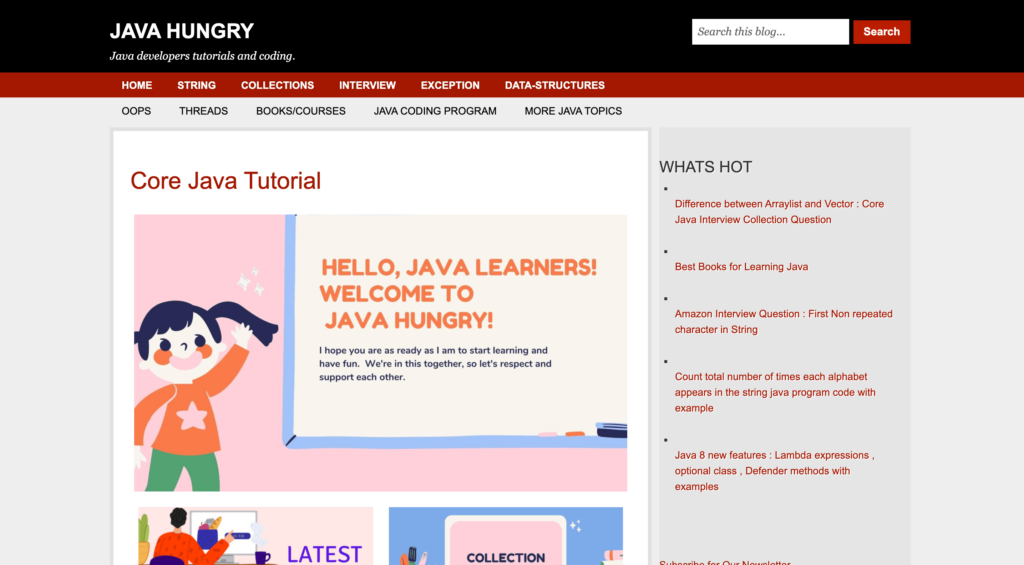 This is yet another wonderful java blog that features Java developers coding and tutorials. This is one popular blog if you are looking for java related articles and topics. Every day thousands of programmers and developers visit this website to improve their java knowledge. They also provide tutorials for Spring boot, Java, rest web services, hibernate, spring, and python.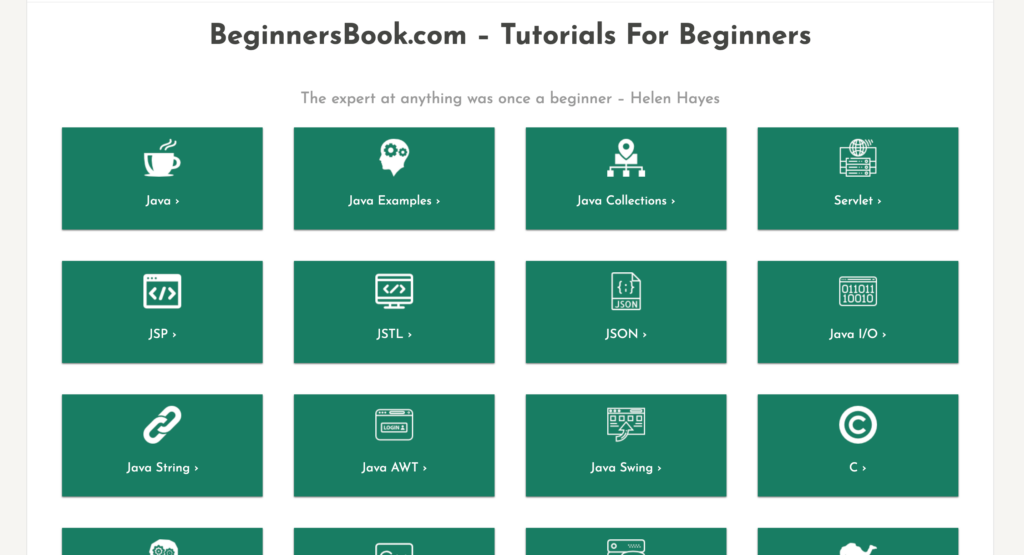 The tutorial at Beginners Book will help you learn the Java language like a professional. You will find 500+ tutorials on different topics of Java, which includes tutorials on the core java & advanced Java concepts all along with many Java programming examples that will help you understand it better.
The core Java Tutorial has the links of tutorials in the systematic order right from the beginner's level to the highly advanced level. No matter whether you are a college student who wants to learn the Java programming language for free or a company employee looking for advanced Java topics and articles for building the application in Java, Beginners Book will be a very useful guide for you so start learning now.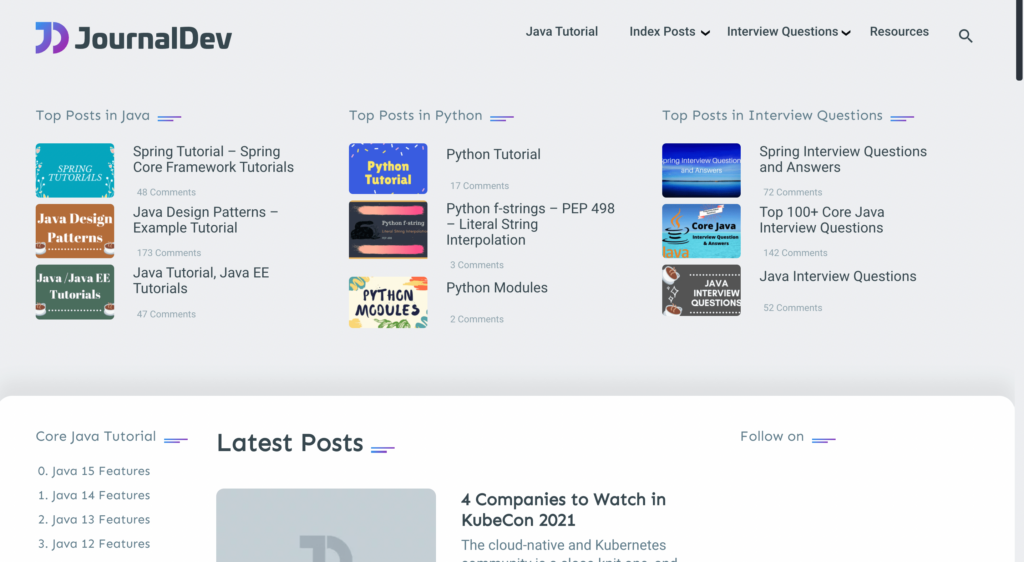 Last but not the least, JournalDev is the most popular site for Java, Android, Python, and other related technical articles. The tutorials are often updated, complete, and error-free. You will find millions of developers visit this website to read the tutorials and learn more about their favorite language.
JournalDev was created in 2010 by Pankaj Kumar to share his knowledge and experience with other programmers. He like Open source technologies & writing on his site has become his favorite passion.
Final Words
To stay on top of your Java development, it is very important that you keep yourself regularly updated on the latest news & happenings related to Java. The given top Java websites, blogs, and newsletters will make sure you stay updated on any development by continuously enhancing your Java knowledge and skillset.